A Day in the Life: On Set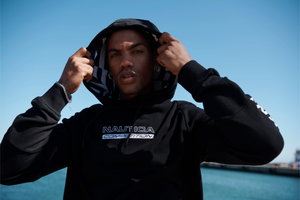 Introducing our new 'Day in the Life' series. Each month we will take you behind the scenes for an exclusive look at how we work at Nautica Competition. This month we caught up with Head of Creative, Mark Ashcroft, to get our first look at a Day in the Life when working on a photoshoot for Nautica Competition.
I'm officially called Head of Creative but it's just a title and I am very much the sum of my amazing team that works alongside me.
Talk us through a typical day on a location shoot for you.
Oh man, they can be so so varied to be honest, it really does depend on whether we are in a studio or on location as they are vastly different things on the day. Obviously a lot of the work actually happens before shoot day, the lead up to the shoot is in some ways much more stressful, or rather a different kind of stress. With every shoot we do we have to do casting, to make sure we get the right models and that the cast is diverse. It's really important to us all that we are representative. Its so important to us as a company and we have always prided ourselves on the fact that this has always been at the forefront of our choices.
Then once we have options on models it's about building out the bigger crew and making sure that again that crew is diverse and as ethical as we can possibly be. When shooting in Cape Town we try to partner with production agencies that hold the same values as us - this is important. 

Once we have chosen a stylist, hair & make-up artists, videographer and photographers, its all about creating a schedule and running order before we fly out to Cape Town for the shoot.

A typical day on set is pretty much dictated by whether we are shooting in the City or heading further out. We often have an evening production meeting the night before the shoot, where we go over the schedule and sort out any issues, and of course make sure everyone knows what time they are on set.

Most days involve pretty early call times. It can be as early as 4am if we are having to drive a long way to the location. Early call times are often necessary so we can shoot during the early morning sunrise and use the best light before it becomes too harsh in afternoon. 

We have breakfast on set (Cape Town catering is pretty nice tbh), then we go through outfit selection and order again with the stylist. We chat with hair & make-up to make sure there there are no issues, like someone turning up with a shaved head instead of long flowing hair (it has happened) and then its about referring back to the concept document and in the location to make sure everything is aligned.

Once everyone has been through hair & make-up we jump on set with the photographer and we start shooting. There is constant dialogue with the photographer and model, to make sure we get the movement we want and the attitude that's needed but also its about building a relationship with them both. There is no point in having a stressful set, I mean this job is FUN and sets should be also. It's work and things need to get done but it should be relaxed, we should be able to have a giggle because you get the best out of people when they are happy or when they feel at ease. It's very easy to tell in the final product when the set was tense, something just doesn't look right.
We try to front load the day with more shots and then we break for lunch. In Cape Town the sun's CRAZY hot from around 12pm - 3pm so we tend to work lunch around that and then work later into the evening. The morning and evening light are the best so our days very much work around that. Shooting in the afternoon is brutal and its very easy to get sunstroke if you are not careful.
Once lunch is done and everyone has had a decent bit of downtime we head back out again to shoot and continue on till we have got all the shots and video footage we need. 

Once we call the shoot and wrap its about breaking down the set. A lot of clients will just up and leave as this point but its really important for me to muck in with the production guys. No one is anymore important than anyone else on a shoot, its all part of a giant machine and its important that everyone stays grounded and mucks in. 

By doing this, we end quicker, crews get more rest and everyones fresher the next morning at 4am to do it all over again!
What was your favourite thing about shooting in Cape Town?

The people. Hands down. I have been really lucky now to have shot in in Cape Town over 15 times in my career and I have made some amazing friends out there. Cape Town is a very creative city full of really creative people. It just has a vibe, very independent, very cool, very interesting and just a wonderful place to work.

The locations are stunning, the warm weather is more predictable in terms of reliability but ultimately we come back because of the people. Everyone I have ever worked with in Cape Town has been amazing and a wonderful human being.

It has its problems, probably more than most due to the historic nature of South African Apartheid and social injustice but it's trying hard to do better and to provide opportunities for all. It still has some way to go for sure, especially compared to the UK but I think in the UK we are just better at hiding those issues where as in South Africa its more obvious to the eye.
Where would your dream location be for a campaign shoot?

Oh, man there are so many to choose from but I am a bit of a mountain boy, so if I could ever shoot up a mountain I would be pretty stoked to be honest! The Alps or Pyrenees in Europe or the Drakensburg Mountain range in South Africa would  be the dream. The two shoots I have done in Iceland have been the closest location to nirvana I have ever gotten to.
What do you love most about being Head of Creative?

I sound like a stuck record but its the people. In this job I have been so lucky to work with rad people everyday, whether that's my team, who become like family, collaborators, agencies, models, stylists and beyond. 

I have always said that in this industry I have never had that Sunday feeling and I feel utterly blessed to be able to say that. Sure it's stressful, busy and things can go wrong but hey, that's life, and its all about perspective!

I'm not saving lives here and its important I understand that BUT if I can help someones career, whether that be a designer or a model, by giving them their break or if I can make someone feel represented or heard then I feel pretty lucky to call this my job. 
What is your favourite piece from the Nautica Competition SS22 collection?
There are so many to choose form but it would probably be the Ghost OH Jacket, as soon as I saw it I was in monochrome heaven. I also love the Hawkfish OH Jacket for its old school outdoors vibes. I also love some of the more archive informed pieces too.
We want to say a massive thank you to Mark for giving us an exclusive look into a Day in the Life of Head Creative on a photoshoot. It doesn't sound easy but boy does it sound fun! 
Don't forget to follow us @nauticacompetition to say in the loop with all the latest drops. 
BACK TO ALL ARTICLES