These 90s Streetwear Trends Are Living On Today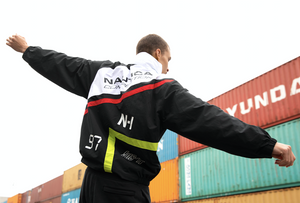 90s streetwear has made a powerful comeback. Forget about the skinny jeans, close-fits, and muted colours of the 00s. If you've had even a brush with urban culture in the past year or so, you'll have seen the return of oversized cuts, chunky trainers, and big logos. Here are nine of the most important 90s trends that are living on in the 2020s.
The oversized or baggy fit
Hip-hop and grunge were two of the most iconic subcultures of 90s streetwear, and both shared a dedication to the loose-fitting, oversized, or baggy fit. Street mythology says that baggy clothes suggested hand-me-downs from a bigger, older sibling - and the logic goes that if you have a bigger, older brother or sister, then someone's got your back on the streets. Make what you will of that, but it's clear that the oversized fit is back. Good riddance to the 00s tight fits that were never comfortable. 
Chunky trainers
Big trainers, big dreams. Well, maybe that's not true, but we've seen a huge comeback for chunky-soled creps. Whether you lean towards the prettier end of the spectrum or the full-on, ugly dad trainer - just make sure you go chunky. the trend will swing the whole way to the level of Spice Girls platform shoes is another question. IBut it's clear that chunky trainers are comfortable, they make you look like a boss, and they are most definitely back on trend.
Big logos
After over a decade of subdued and delicate little logos, big logos have made a comeback in streetwear. And why not? If you're wearing the freshest garms from the dopest brands, then people need to know. Big logos are also a part of the boldness and brashness of 90s streetwear that is so appealing today. As the saying goes, 'go big or go home.'
Bucket hats
This one caught some of us by surprise, but there's no denying it now - the bucket hat is back. A staple of 90s hip-hop fashion (and also the guy in Wheatus), the bucket hat is a weirdly practical sunhat that not only keeps the sun out of your eyes and off the back of your neck, but also communicates your profoundly chill - yet occasionally cheeky - disposition to the world around you. Match this carefully with your personality for the biggest impact.
Puffer jackets
Unless you've been living in a cave for the past three winters, you won't have missed this one. Those flimsy wool peacoats and Oasis parkas are out, and big puffy jackets are everywhere. Thank god. Nothing beats the comfort of a puffer jacket in winter, and they make even the skinniest kid on the street look like a force to be reckoned with. They also double up as a half-sized sleeping bag at summer festivals.
Blocks of colour
Forget about fades. 90s colour was all about big blocks of colour. Royal blue. Brilliant white. Post-box red. Go monotone if you like. But mixing it up is more in line with the 90s look. Big blocks of colour have always looked great, so stick to that block structure for the full impact of the 90s streetwear look that works so well in 2020.
Sportswear brands
Hip-hop fashion has always embraced sportswear brands, both in the 90s and today. And in 2020, we're seeing a renaissance for many of these brands. Since the days of Michael Jordan, sports labels have become synonymous on the street with aspiration, achievement, and being a total boss. What's more, whether or not you actually do any sports, nothing beats the comfort of a good tracksuit and trainers. 
Bold tone colours
Bold tones - even bordering on the garish - were a big thing in the 90s. And after nearly two decades of muted tones, it's nice to see the return of some 90s colour trends. And bold colours doesn't necessarily mean the big neon colours that were around in the 90s. PBig blocks of primary colours - red, blue, and yellow - especially on sports apparel, is a definitive part of the 90s streetwear look that's coming back right now.
Flares
Not 60s flares - 90s flares. Flares are a thing that seem to come around in cycles. But the flares of the 90s had a different meaning to the flares of the 60s. In the 60s, flares were tied up with the hippie movement in a big way. In the 90s, it was a different thing entirely - we're talking Tetris, 7UP, and Nokia 3210s. Today, flares come with a heavily nostalgic, almost ironic nod back to the 90s - representing a simpler time before social media, climate anxiety, and streaming television services. Sigh. Who would have thought that a pair of trousers could do all that?
Oval glasses
Oval glasses, sometimes referred to as clout goggles, are another heavily ironic 90s streetwear trend that's come back to haunt, or, err, bless us. The narrower the lens, the higher the kitschness levels generated with a pair of these bad boys. Worn ironically in the summer of 2019, 90s oval sunglasses will probably be a new norm within the next year or so, if other 90s streetwear trends are anything to go by. Get on this one now and stay ahead of the curve.
BACK TO ALL ARTICLES