Boat Race: Get The Look!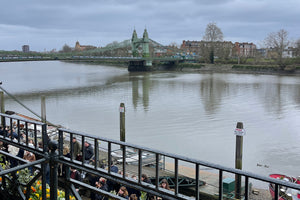 On the 25th of March, Nautica and Nautica Competition hosted an event for the the Oxford v Cambridge Boat Race! 
Held at the Rutland Arms along the Hammersmith River Thames, the private room had the perfect river view to watch all the action. With burgers and beers flowing, guests came wearing their favourite Nautica Competition pieces and enjoyed the celebrations
!
Want to get the look of some of our incredible guests? Keep reading for some our fave 'fits from the day!
Emily Hughes rocks the Nautica Competition style in this relaxed, yet stylish look! She wears the Davey Oversized Sweatshirt, with the classic embroidered branding across the front, and the pop of colour contrasting on the sleeves. She pairs this with black leggings and finishes the look with our Obi Strapback Cap in white. 
Our guest Callum was repping the Nautica Competition look with his tracksuit set and jacket. He wears the Alberta Oversized Jog Pant and the Lodi Oversized Hoody in Burgundy. With the matching set, he pairs the new in Delvin Jacket in yellow, which elevates this casual, comfy look and adds a great pop of colour. You can mix and match any of these pieces to create your own Nautica Competition style! 
In her comfy, yet cute Nautica Competition look, Meg wears the Elm Oversized T-Shirt in white, tucked into a pair of high rise trousers. She tops it off with the Crystal FZ Jacket to tie the whole look together. These pieces are so versatile and can be dressed up or down, to rock both comfort and style!
We hope you've enjoyed some of our favourite Boat Race outfits and taken some inspiration from these. These pieces are all perfect to pair with your own pieces and style in your own unique way! For all the latest content, news, and to see more Boat Race 'fits, make sure to follow our Instagram @nauticacompetition!
BACK TO ALL ARTICLES