Introducing Nautica Competition Womenswear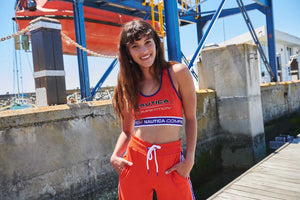 In 1983, starting with only 6 outwear styles, founder and designer David Chu, grew Nautica into a renowned global lifestyle brand in over 65 countries. Which introduced Nautica Competition, originally launched in 1996 and brought back in 2018, taking the essence and spirit of Nautica to a new generation. Leading to the creation of Nautica Competition Womenswear Spring Summer February 2021
establishing a new era for the brand.
Fusing nautical style with urban streetwear, our new Womenswear Collection brings a refreshed take on the sailing heritage behind the original Nautica brand. Nautica Competition inspires experiences through the currents of the ocean
while promoting the feeling of euphoria to escape, refuel, and recharge.
Taking inspiration from the Menswear collection, the stylish Womenswear range was designed to provide trendsetting sportswear that will make a vibrant statement, whilst serving optimised comfort and everyday wearability.
The '90s inspired sportswear label, includes performance multi-sports pieces with bold logo designs, colour blocking and energetic colours. The collection features staple must have pieces that will liven up your everyday attire, whilst delivering high-quality iconic style and optimised fitting, the new Womenswear collection will keep you up to date with the latest sport trends.
BACK TO ALL ARTICLES