Loungewear for Your Wardrobe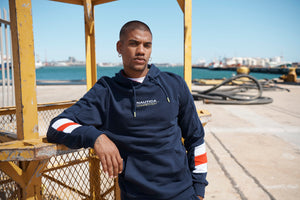 Loungewear has become a staple piece in our everyday life, whether you work from home or you're out and about, everyone can benefit from and love to wear those comfortable, cosy loungewear pieces. Loungewear just isn't for wearing around the house, it can also be perfect when in a casual setting or situation, allowing you to settle and unwind from a busy day or week.
Loungewear can be defined as any item that are both ideal for hanging out around your home and relaxing in, allowing you to binge watch your favourite show with ease. Loungewear is designed to be wearable in many situations, and here at Nautica Competition we're here to help you pick the best items for relaxing in.
Loungewear is almost certainly on trend, and while providing all-day comfort, loungewear has become more popular thanks to lockdowns and working from home. Our ranges here at Nautica Competition offer stylish loungewear, whether you're heading out or still working from home.
Our Tang Sweatshirt is both minimalistic and comfortable for wearing around the house or heading out in, paired with our Ademate Jog Pants or Cory Fleece Shorts, it becomes the ultimate loungewear look.
Looking for a cool summer loungewear look? The Blenny T-Shirt is both simple yet stylish for a relaxed look, with a contrasting colourway and a simple Nautica Competition logo. Pair with the Sailfin Jog Pants for ultimate style.
Women's loungewear is just as important and our Maiden Leggings provide style and comfort throughout the day, wear with the Jewell T-Shirt for comfort no matter what.
Loungewear are staple pieces for our wardrobes and here at Nautica Competition we hope you love our stylish yet comfortable pieces.
Tag us in your loungewear 'fits over on Instagram at @nauticacompetition.
BACK TO ALL ARTICLES