Pack With Us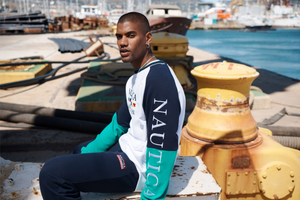 As the sun shines and temperatures soar in the UK, it's time to start prepping for our summer holidays. From a three-day festival to a week away in the Mediterranean, it's important to pack smart – especially considering the price of luggage these days!
Here at Nautica Competition, we've got you covered and have put together the ultimate packing list for this summer season. From everyday essentials to important accessories, you will be ready for all occasions this vacation.
Swim essentials
Summer holidays frequently revolve around water. Whether that be a boat trip on the lake, a dip in the pool or a trip to the local water park, it's essential to be prepared. The Tripplefin swim shorts feature a nautical stripe print and drawstring waistband, offering style and comfort. Pair with the Samoan t-shirt for an everyday fit that can be worn around the pool and beach. Don't forget to pack your sunglasses, sun cream and sliders!
Some sun protection
In the constant quest for the perfect tan, it can be easy to get carried away and forget to pack to some protection. Shield your face and eyes from the summer sun with the Proctor reversible bucket hat. Featuring the Nautica Competition logo and bold colours, you can pay homage to that 90's nostalgia this summer. If a bucket hat isn't for you, then the Tappa cap in black is an essential that can be paired with any holiday outfit.
A Sweatshirt Saviour
The air con on the plane can be your worst enemy when travelling, so it is important to pack your staple jumper or hoodie. The Polar oversized sweatshirt in white is the perfect summer sweatshirt, complete with a Nautica Competition graphic on the chest. Pair with any blue or grey shorts for the perfect plane fit.
Evening attire
Holiday evenings are all about smart casual dress so it's important to pack something other than your favourite t-shirt. Pair the Cayden rugby shirt with a pair of linen trousers or chino shorts and some trainers to complete the look.
As well as the essentials listed above you musn't forget your aftersun, portable speaker, passports and of course the good vibes.
Don't forget to check us out on Instagram @nauticacompetition.
BACK TO ALL ARTICLES